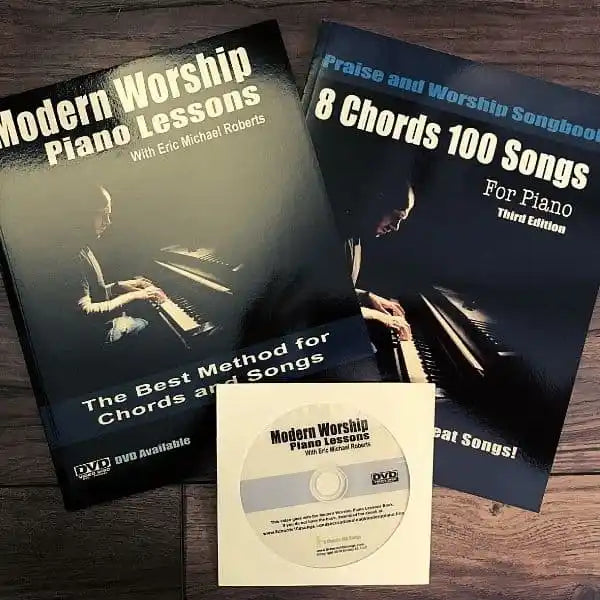 Worship Piano Home Study Course + 8 Chords Success Kit Bundle
Regular price $119.99 $97.00 Sale
This worship program is for complete beginners... it's super easy and is designed to get you started playing the right way.  Imagine being able to sit down at the piano and play all your favorite songs with easy chords and not being forced to read music! 

Learn your first chords and scales
Learn to play a melody by ear
Learn how to use the sustain pedal
Learn how to read a chord chart
NO MUSIC READING REQUIRED!
Once you learn the chords and simple patterns in this book you will be able to play and sing some great songs! Songs you learn in this book:
When the Saints Go Marching In

Joy to the World

Amazing Grace
Plus any of the songs in the Play and Sing Worship Guitar Book including
How Great is Our God

Everlasting God

Blessed Be Your Name

Mighty to Save

10,000 Reasons

and 25 others!
I have great news...
You don't have to read notes! (if you don't want to) It works for guitar players and the pro piano players have been doing all along too! I'm going to let you in on a little secret...... The piano players are not reading notes, they are using simple chord charts! What??? That's right, you can play all your favorite songs and never read a lick of music notation on the staff. In fact, all the Nashville studio players use simple number charts to play and record all of the popular music you listen to. Many piano teachers won't tell you this... You can play songs on piano easily when you understand how to play using simple chords.
Sure, you CAN make it complicated, but it's much EASIER to use my simple modern chords and focus on the more important aspects of leading the band and worship. The last worship conference I attended in Nashville I watched one of the worship leaders (he had recently won songwriter of the year) led a full worship set with only 4 chords!  He went from song to songs and never changed from those 4 modern chords!  It was AWESOME!  It works for the PROS and it will work for YOU!
If you are like many of my private students, you want to skip the theory and technical jargon and simply learn to play the great worship songs that people love to sing along to. That's exactly what you will do when you begin lessons with me! You see, anyone You can learn how to play and sing these great songs, regardless of your current skill level. The key is in the structured learning system that I provide you with and the order in which we learn the chords and patterns. Once you learn to play the chord patterns and pick out melodies by ear you can start playing the worship songs you love!
And, here's the best part. In the end, not only will you know how to play the best modern chords and patterns, you'll have the skills to play all 100 songs in the 8chords100songs Worship Songbook plus thousands of others!
HERE IS WHAT YOU GET IN THE MAIL:
1 awesome lesson book with charts and lesson plans for every week!
Complete lesson plans for every step of the way!
1 DVD with Up-Close Video Lessons
My amazingly easy Top 25 Worship Songbooks with over 25 songs with 4 
8chords100songs Songbook